Pilgrimage
At Notre-Dame-de-Bon-Secours Chapel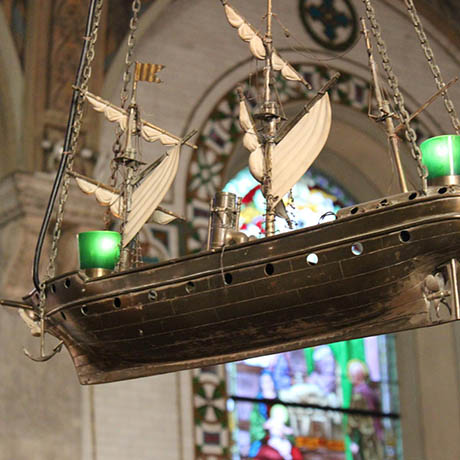 What is a Pilgrimage?
The term pilgrimage is derived from the Latin, peregrinatio, which itself comes from per ager meaning "cross country". Pilgrims step outside the regular routine of their lives. They move off the beaten path to make a journey to a sacred place in a personal search for meaning that will lead them within, to the source of their whole being.
Why Make a Pilgrimage to Notre-Dame-de-Bon-Secours?
Why, still today in the 21st century, join such an age-old movement? Why come to this chapel founded by Marguerite Bourgeoys where we have been preceded by the first Montrealers, sailors, Papal Zouaves, believers of every kind, anglophone and francophone and visitors to Old Montreal?  Pilgrimage to Notre-Dame-de-Bon-Secours Chapel had its origins in the devotion of Marguerite Bourgeoys to the Blessed Virgin and in the need to find a pilgrimage site safer than the cross on the mountain erected by Paul de Chomedey and the first Montrealers.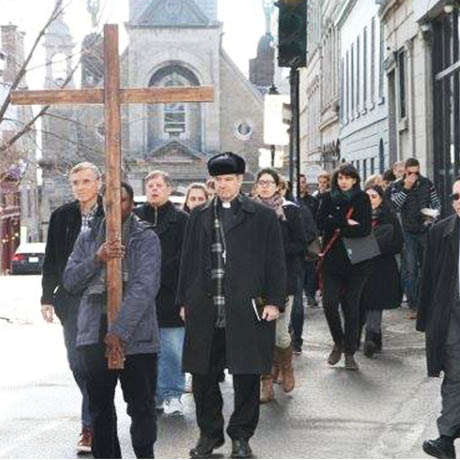 You are always welcome to visit Notre-Dame-de-Bon-Secours Chapel, whether to pray quietly, to participate in the celebration of the Eucharist, or to make a personal pilgrimage. These activities are offered free of charge, however a free will offering is always appreciated.
Opening Hours:
Tuesday to Sunday
May 1 to October 9, 2018
10.00 am to 6.00 pm.
October 11, 2018 to January 15, 2019
11.00 am to 4.00 pm.
January 16 - February 28, 2019
Closed (open to groups, upon reservation)
March 1 – April 30, 2019
11.00 am to 4.00 pm.
Enjoy a meaningful experience in Montreal's first chapel of Marian pilgrimage. Enhance your visit with the help of the Bonsecours Experience, or choose among the activities offered and learn how history and spirituality meet.
Visit of the Chapel with The Bonsecours Experience
Let the Bonsecours Experience accompany you trhoug the chapel on a journey through the years from 1655 to present day. Learn how history and spirituality have been intertwined throughout the chapel's long history.
---
Organized Group Pilgrimages
Pilgrimages include:
a visit to the Chapel
a visit to the Marguerite Bourgeoys Museum
a visit to the archaeological site
And may include:
celebration of the Eucharist
a time of prayer in the Chapel
It is always possible to tailor a pilgrimage to your needs and interests. Please do not hesitate to contact us to discuss possibilities.
---
Fees for organized group pilgrimages
Reservation for a group is required.
A single payment per group is required.
One free entry per group of 20 persons.
Fees
| | | |
| --- | --- | --- |
| | Individual Rate | Groupe Rates |
| Adults | $12.00 | $9.00 |
| Seniors | $9.00 | $7.00 |
| Students | $9.00 | $6.00 |
| Children | $7.00 | $5.00 |
Organized Tour Group Visits of the Chapel
Tour groups wishing only to visit the Chapel are welcome. A brief, historical presentation of the chapel may be arranged. Please contact us for further information.
Fees: $5.00 per person
---
In the Footsteps of Marguerite Bourgeoys
A walking tour of Old Montreal which visits the places where Marguerite Bourgeoys and the first sisters of the Congregation-de- Notre-Dame lived and worked.
This is a seasonal tour, offered from May to October and dependent on the availability of guides.
Please contact us for more information.
Objects Offered to the Chapel by Pilgrims
Many of the objects in Notre-Dame-de-Bon-Secours Chapel bear witness to the different types of pilgrims. Some of the votive hearts hanging on the walls of the sanctuary recall the many groups of pilgrims who responded to the invitation of Ignace Bourget, second bishop of Montreal, in his desire to restore the tradition of pilgrimage to the chapel of Marguerite Bourgeoys.
The model boats hanging from the ceiling evoke the attachment of sailors and longshoremen to the Chapel. The first recorded evidence of this devotion is the ship presented by the Papal Zouaves on May 26, 1872. These men from all over Canada wished to thank the Blessed Virgin for her protection on the voyage back to Canada after the Siege of Rome where they had defended Pope Pius IX. To this day, the Zouaves of Valleyfield come in pilgrimage each year on the third Sunday of September to commemorate the end of the Siege on September 20, 1870.
Portrait of a Pilgrim
Today's pilgrims are a diverse group.  While many of them are believers seeking to deepen their faith, there are others who seek meaning for themselves and those close to them without being traditional believers.  They are often persons who decide to take a break to recover a sense of their own deepest being.   Pilgrimage then becomes a means of breaking old habits and starting out afresh of the road of life.
Pilgrimage: a Meeting With the Other
Pilgrimage is first and foremost a meeting with the other, the unknown: the unknown that we meet along the way and that reminds us of our place in the human community; the unknown in us that calls us to assume our responsibilities toward every living being; and the transcendent unknown that reminds us that life will always have the last word and that we are simply called to do our best to improve this world of ours.
Whoever you are, whatever your age, your situation, your needs, come and present your desires and your fears, your weaknesses and your troubles to Notre-Dame de Bon-Secours. Do not fear to ask too much; this good Mother has her hands full of grace, and she wants to distribute it. Her most ardent desire and sweetest joy is to find hearts ready to receive it. Open your soul to trust; Mary is the help of Christians. There is nothing that you cannot delight to obtain through her intercession.
From the Manuel du pèlerin de Notre-Dame de Bon-Secours, 1848, by Felix Martin. S.J.
Today's pilgrim
We offer visits adapted to pilgrims.