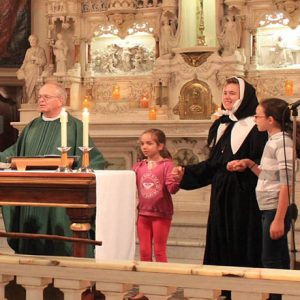 The pastoral mission of Notre-Dame-de-Bon-Secours Chapel is an essential part of a tradition that goes back to the very beginnings of Montreal.
The sisters of the Congrégation de Notre-Dame de Montréal and their associates welcome you all year long to Notre-Dame-de-Bon-Secours Chapel in keeping with the wishes of their founder, Marguerite Bourgeoys.
« Marguerite Bourgeoys, Superior of the sisters of the  Congrégation de Notre Dame de Montréal in New France and the women united with them living in community on the Island of Montreal (…) beg your lordship to allow them to continue the work they have been doing until now, to decorate the said chapel and to collect the alms freely offered and placed in the collection box of the said chapel to work on the interior and finish it perfectly, which can only be done with much care that they are willing to take to give to the Blessed Virgin Mary, their mother, every honour and service at their disposal. »
Extract from a letter addressed « À Monseigneur l'Illustrissime et Reverendissime evesque de quebecq »
14 June 1678.
Following in the steps of the pilgrims who have gathered here for more than three centuries, you will discover …
A place of peace and contemplation …
A place brimming with history where the quest for beauty and the quest for spirituality meet, the artifacts in the chapel place before the eye the means of making visible the invisible world. The windows, the paintings and the sculptures foster contemplation and prayer.
A place of pilgrimage …
To take time to re-discover a path to the inner life
To take time to pray to Mary
To take time to once again discover an important part of our history
To take time to recall our spiritual heritage by contemplating the life and work of Marguerite Bourgeoys
A place of celebration …
The Eucharist […] is the source and summit of Christian life. (Vatican Council II)
Throughout the year, the liturgical team of Notre-Dame-de-Bon-Secours prepares Eucharistic celebrations to make the chapel a real Meeting Place.
Consult the schedule of celebrations on the page entitled Masses
A place of musical expression …
Whether in the liturgy or in concert, music is a path of beauty where the Word evokes a state of listening … a path on which the quest for the spiritual can become an encounter with God.
During Les Choralies, Notre-Dame-de-Bon-Secours Chapel is partnered with the Ensemble Da Capo that provides, through the work of Jean-Sébastien Bach, a meeting of spirituality and music
A place of discovery …
Through our programs for visiting pilgrims and youngsters in catechism courses, come and meet Marguerite Bourgeoys and "witnesses to the faith" deeply involved in the lives of 17th-century Montrealers. You will learn about the challenges the founders overcame so that Ville-Marie would become the Montreal of today.
---
---
Information
For further information, consult the following pages:
Pilgrimage, info and Programming
Service d'animation spirituelle et des pèlerinages :
Chapelle Notre-Dame-de-Bon-Secours
(514) 282-8670, poste 245
Courriel : bon-secours@marguerite-bourgeoys.com